Let my words create content that engages consumers and builds trust in your brand
I specialize in B2B, Business, Finance, Technology and Hospitality
Learn More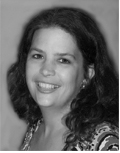 Jennifer Goforth Gregory uses her 20 years of professional writing experience to develop content marketing strategy plans and create content to build trust in her client's brand. She specializes in business, finance, technology and hospitality. One of her strengths is writing practical articles that provide tips that large or small business owners can use to grow their business.
Services
B2B Content
Marketing
Businesses have different problems than consumers. I use my years of experience in the B2B software and financial industries to create content that helps your customers grow their business.
Whitepapers and Case studies
Everyone loves to think of ideas in a new way and read a story of how something actually worked in the real world. Whitepapers and case studies are perfect tools to share your expertise and customer stories with potential customers.
Content Marketing Strategy
I'll admit it. I'm a self-professed content marketing nerd. It's a fun challenge to figure out how to learn about an audience and figure out how to solve their problems.
What clients are saying about
Jennifer Goforth Gregory
"I hired Jennifer in mid-2014 to write stories for the magazine I edit, and it was one of the best such decisions I've ever made. She is a relentless, dogged, determined reporter -- serious newspaper quality -- who asks smart questions of numerous sources and gets smart answers back. She has excellent story ideas and can tackle subjects both big and small, stories that merit 2000 words and 10 sources and those that merit 500 and fewer people to talk to. And once she has the info, she knows how to tell a story. She is one of the nicest, most generous people you'll ever meet. And she delivers on time. In short, an editor's dream."
Andy Sobel
,
Former Executive Editor of Wall Street Journal Custom Studios
"Jennifer is the best kind of freelancer: reliable, enthusiastic and full of story ideas. She takes direction well, is always open to suggestions and genuinely desires to grow as a reporter and writer. She also meets deadlines and produces clean copy. All these traits make an editor's job a lot easier."
Jason Foster,
former editor at The News & Observer
"Jennifer has been an excellent addition to our contributor staff. She is willing to research and write on a variety of topics, demonstrating flexibility and an eagerness to learn. Her writing has been clear and concise, and makes great syndicatable content. Jennifer is an incredibly easy and pleasant person with whom to work; I would certainly recommend her to anyone looking for a reliable, creative and personable addition to their writing staff."